Digital Transformation in Myanmar's Jewelry Industry by using Magnify Myanmar's Social Listening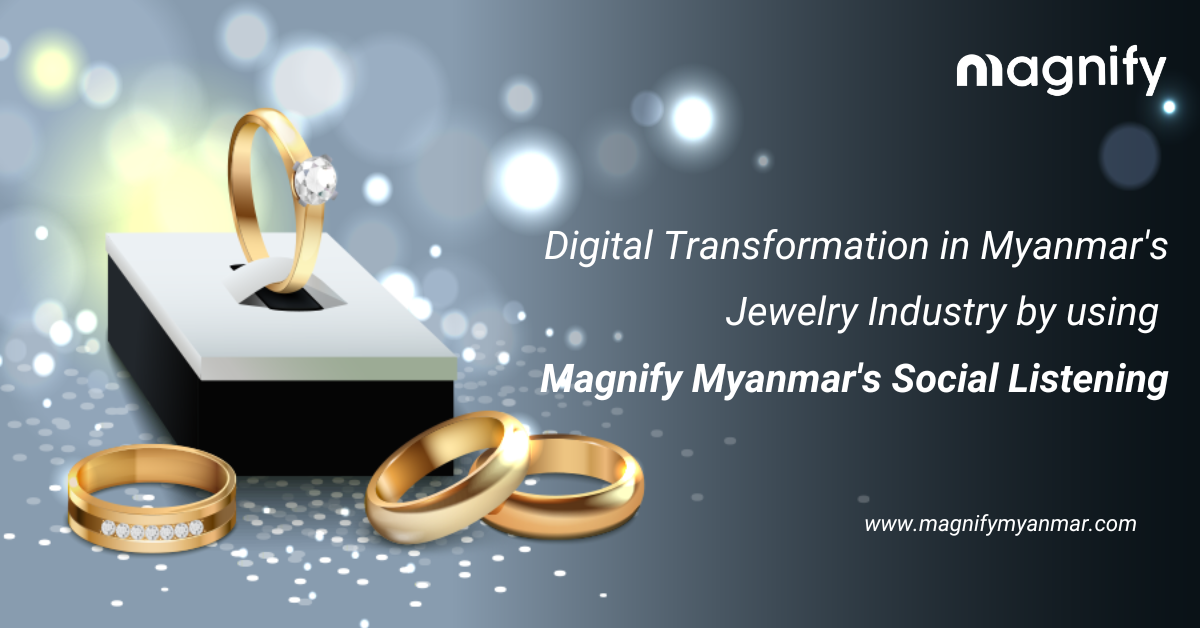 Jewelry holds immense value in the hearts of the Burmese people. With advancing technology, more individuals are opting to purchase jewelry both in physical stores and online. The outbreak of Covid-19 in Myanmar brought about a significant shift in the country's economic landscape. Just as education has transitioned to online classes and platforms like Zoom, the jewelry industry also made the leap to online sales in 2020.
Presently, the jewelry market in Myanmar relies on the endorsement of social influencers. This approach leads to purchases influenced by people's favorite celebrities. While some customers find the experience satisfying, others express their dissatisfaction on Facebook and other platforms. To maintain a positive brand image and prevent reputational damage, it is crucial to employ social listening techniques to monitor and engage with online conversations. In this regard, Magnify Myanmar stands as a prominent company specializing in social listening, tailored to suit your business needs.
Jewelry businesses leverage social listening as a valuable technical tool to enhance their operations. Utilizing Magnify Myanmar's Social Listening, you can conduct an in-depth analysis of business-related social media pages, yielding numerous advantages:
1. Brand Mention & Engagement Analysis
Social media keywords related to your jewelry brand can be monitored in real time, allowing you to track user queries and discussions. With Magnify Myanmar's Social Listening, you have the flexibility to input unlimited keywords relevant to your business. Engagement Analysis helps you identify real-time reactions, comments, and shares, providing you with accurate and clear data.
2. Brand Sentiments & Topic Analysis
Brand sentiments can be categorized into four groups. You can dissect brand-related information by topic, enabling you to gain profound and distinctive insights from the data. These insights help you identify various content relevant to your business, assisting your brand's progress through Magnify Myanmar's Social Listening.
3. Campaign Management
Real-time monitoring of social media allows you to stay informed about your business's status, even during campaigns. With Magnify Myanmar's Social Listening, you can assess the situation before and during campaigns, obtaining valuable data for measuring ROI.
4. Brand Reputation and Crisis Management
Magnify Myanmar's Social Listening helps in identifying potential PR crises by tracking negative comments. Early detection of negative comments enables proactive crisis management, ensuring that issues are addressed professionally. This approach demonstrates a commitment to customer satisfaction and can even turn dissatisfied customers into advocates.
In summary, Magnify Myanmar's Social Listening is your gateway to understanding the social media landscape, aiding in making informed decisions. Harness the power of data insights to bolster your brand and facilitate business growth. To explore Social Listening further, reach out to Magnify Myanmar via phone at 09 791 029 719 or request a free trial through the provided link One Stop Media Monitoring Tool – Magnify Myanmar .